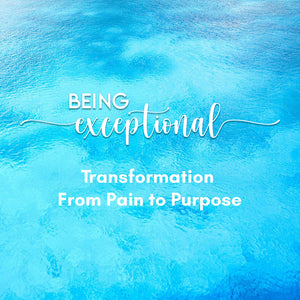 Being Exceptional - Hypnotherapy Transformation From Pain to Purpose
Regular price
Sale price
$ 2,850.00 USD
---


Re-Igniting Your Life Together
Being Exceptional is unlike anything you have ever experienced or been offered before! Your mental health matters and we are going to right the wrongs of your past.
You are joining me on a journey of discovery for the next 12 weeks, as I take you from where you are now...to where you want to be. You will be coached, mentored and receive award winning Rapid Transformational Therapy (RTT®) sessions and PTSD (Patterns, Trauma, Stories, & Drama) Energy Clearing sessions in this personalized workshop that's purpose is for you to reinvent yourself starting from the inside out! It just works.
What's included in this 12-week personal workshop:
Unlimited

RTT®

 sessions
Up to 12 PTSD Energy Clearing sessions
Being Exceptional Workbook
A copy of "Journaling With Intention" eBook
Guided Meditation .mp3 - "You Are A Warrior"
Gift one

RTT® 

session to a family member or friend
RTT® sessions runs circles around traditional talk therapy. RTT® takes you to the root of your issues so you're able to clear your problem out once and for all. It goes deep and spreads wide into many areas of your life!
Energy Clearing sessions removes the cellular memory of pains, habits, behavior patterns that are locked deep within, like muscle memory of the soul.  Like Dr. Joe Dispenza says - your familiar past is creating your predictable future.  It's time to replace these patterns with new cellular memory.  
This 1-on-1 program is designed for individuals who are committed to their healing and growth, and are ready to take the next step on their journey of transformation. Whether you're struggling with addiction, anxiety, depression, or other challenges, this program can help you break free from your past and step into a brighter, more fulfilling future.
You're going to be able to turn your weaknesses into your strengths and your strengths into self mastery, so you can be exceptional in anything you choose to do in this lifetime!
It's time to reinvent yourself!  Are you ready?
PLEASE NOTE:
Due to the nature of the services offered, RTT, Hypnosis, Energy Clearing, guided meditation services and membership packages are not eligible for refunds and must be redeemed within 60 days of purchase.

When purchasing packages which require you to make an upfront payment please make sure you are prepared to make the commitment to follow the program through to its conclusion before you make the purchase.

Payment options available.
If in doubt, please schedule your discovery call first before purchasing.